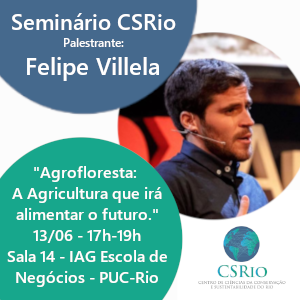 CSRio Seminar with Felipe Villela: "Agroforestry: agriculture that will feed the future".
24/06/2019
Agriculture is currently facing increasing pressures related to land intensification and degradation. Energy and soil conditioners, declining biodiversity, social issues faced by farming communities and climate change are just some of the major concerns that threaten the viability of agriculture in a sustainable way. At the same time, there is a need to increase food production and resource efficiency. Facing these challenges, the CSRio Seminar held on June 13, 2019, invited Felipe Villela to present the lecture "Agroforestry: agriculture that will feed the future". He presented researches and works carried out in Global Agroforestry as a possibility to face them from using the Agroforestry Regenerative
Felipe Villela has a BSc. in "International Food & Agribusiness" focusing on "Sustainable Agriculture" at HAS University of Applied Sciences and Production Engineer at PUC-RS. He is the founder of the reNature Foundation, a Dutch foundation that aims to regenerate 1 million hectares of degraded soils through Agroforestry by 2030. It develops and implements projects with local farmers / families, indigenous communities, companies and organizations. He is the Ambassador of Thought for Food and is a member of the Delegation of Young Leaders of the UN.
< Previous
Next >
Back to News