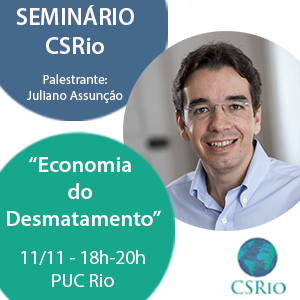 CSRio Seminar – "The Deforestation´s Economy".
04/11/2019
Large environmental impacts can directly influence the economy. Studies show increasing deforestation in Brazil in the first half of 2019 compared to the same period last year, while agricultural research has been a central theme in the debate on economic development. In this context, it is necessary to understand the relationship between deforestation reduction, agricultural sector and Brazilian economy.
At the next CSRio seminar, on 11th november, at 6pm, we will be pleased to welcome Juliano Assunção, who will address the determinants of deforestation in Brazil, showing how policies to combat deforestation have worked and their effects on economic activity, as well as the relationship between increased agricultural studies and reducing deforestation pressures.
Juliano J. Assunção is executive director of CPI's Rio Office, Associate Professor of the Department of Economics at the Pontifícia Universidade Católica do Rio de Janeiro (PUC-Rio) and associate Editor of Revista Brasileira de Economia and Environment and Development Economics. He is a member of the Consortium on Financial Systems and Poverty at the University of Chicago and works as a consultant for firms, governments, and multi-lateral organizations. Juliano's research focuses on different aspects of development economics, including agricultural economics, institutions, and financial intermediation.
< Previous
Next >
Back to News