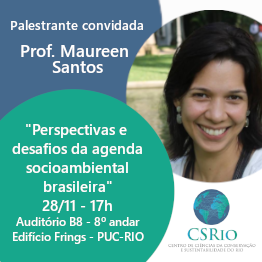 CSRio Seminar with Maureen Santos
21/11/2018
The next CSRio seminar invites Prof. Maureen Santos to speak about the perspectives and challenges of the Brazilian socio-environmental agenda.
Prof. Maureen is an environmentalist and political scientist. She is coordinator of the Socio-Environmental Justice Program of the Heinrich Böll Foundation Brazil, and one of the organizers of the Brazilian version of the Atlas of Agribusiness: facts and figures about the corporations that control what we eat. She is a professor at the Institute of International Relations at PUC-Rio and a researcher at the Brics Policy Center.
The event is free and open, and a certificate will be issued to participants who request it.
< Previous
Next >
Back to News