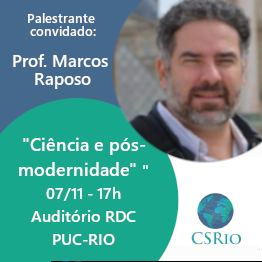 CSRio Seminar – 07/11
01/11/2018
Everyone is invited to the next CSRio Seminar, next Wednesday, November 7, from 5:00 p.m. to 7:00 p.m. in the auditorium of Rio Data Center (RDC), at PUC-Rio.
In this edition we will have the presence of Professor Marcos Raposo (National Museum), curator of the Birds collection of the National Museum, who will present the lecture "Science and postmodernity.
The fire that hit the headquarters of the National Museum in Quinta da Boa Vista on the night of September 2 of this year destroyed almost all of the historical and scientific heritage built over two hundred years. What has happened is an inestimable loss for the sciences directly related to the conservation of nature and also to other fields of knowledge.
In this event, we will have the opportunity to better understand what this loss represents, as well as the new perspectives, challenges and possibilities for a movement to raise awareness and support for science through museum bias.
Marcos Raposo is an associate professor at UFRJ, specializing in philosophy of zoological classifications, anatomy and taxonomy of Neornithes birds, and in 2017 he did his PhD in Philosophy of Science at the Sorbonne, Paris, with an emphasis on the philosophy of animal classification. In 2010, he was awarded the FAPERJ Young Scientist edict of the State of Rio de Janeiro and is currently researching in several projects, in particular a Taxonomic Catalog of Brazilian Bird Species and Philosophy of Sciences, a discipline that postgraduate students (Zoology). He is the coordinator of the important project of scientific diffusion that aims at the revitalization of the exhibitions of Vertebrates of the National Museum.
The event is free and open, and a certificate will be issued to participants who request it.
We count on the presence of all and all!
< Previous
Next >
Back to News