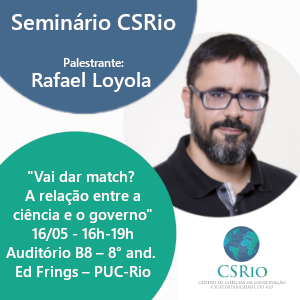 "Is it a match? The relationship between science and government " – CSRio Seminar 16-05
13/05/2019
It is with great pleasure that we announce Rafael Loyola participation in the next CSRio Seminar, presenting the talk: "Is it a match? The relationship between science and government", on May 16 (Thursday) at 4 pm, at the Auditorio do Direito (B8).
Rafael Loyola is a professor in the Department of Ecology at UFG, Research Productivity Scholarship level 1A at CNPq and member of the Brazilian Academy of Sciences. He is currently the Scientific Director of the Brazilian Foundation for Sustainable Development, where he manages projects and the team responsible for providing adequate support to decision-making and the formulation of intersectoral environmental policies in Brazil. He is the author of more than 180 scientific publications, including 11 books, editor for the Americas of the journal "Biological Conservation" and scientific advisor to numerous international and national journals and development agencies
The meetings are open to the public, and the discussion followed by the presentation will be conducted in an open and participatory manner.
No prior registration is required. A certificate will be issued to participants who request it. Questions and information: contato@csrio.usuarios.rdc.puc-rio.br
We count on the participation of all and all!
Date: 05/16/2019
Time: 4:00 p.m. to 7:00 p.m.
Address: Auditorio do Direito (B8) – 8th floor Ed Frings, PUC-Rio. R. Marquês de São Vicente, 225 – Gávea
< Previous
Next >
Back to News