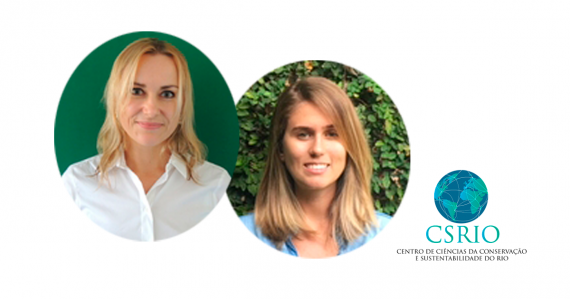 CSRio Seminar: Are new frameworks needed? Discussion in the scope of environmental projects
21/10/2020
Frameworks are tools that unite words, ideas and information about a research topic. The construction of a concept, approach, theory or method may involve the elaboration of one or several frameworks.
In this seminar, the PhD in Environmental Sciences and CSRio coordinator, Agnieszka Latawiec, and the geographer and PhD student in Geography, Aline Rodrigues, will present and discuss the development of some frameworks and the utility (or not) of them related to ecosystem services and to Nature-Based Solutions (SbN).
The presentation will take place on October 22, 2020 (Thursday), from 17:00 to 19:00 by videoconference on the LINK
Meeting ID: 924 2805 469 | Access password: 058870
About the speakers:
Agnieszka has a BSc. in Engineering of Environmental Protection, an MSc. degree in Environmental Protection (both from the University of Life Sciences, Poland), and a Ph.D. in Environmental Sciences from the University of East Anglia, UK. She is currently an Associate Professor at the Department of Geography and Environment at the Pontifical Catholic University of Rio de Janeiro (PUC-Rio), Associate Professor at the Department of Production Engineering, Logistics and Applied Computer Science, Agricultural University Kraków an Honorary Senior Lecturer at the School of Environmental Sciences at the University of East Anglia and co-founder and Executive Director of the International Institute for Sustainability (IIS). In recent years, has focused on broader aspects of land management, participating, or leading projects related to land-use change and decision-making. She seeks collaborative interdisciplinary research on various topics related to land management, sustainability, sustainability indicators, applied soil science, and environmental decision-making. She is also a Deputy Coordinator of Professional Master in Sustainability Science at PUC-Rio, Coordinator of CSRio, Leader of the Research Group "Integrated Landscape Management" and Leader of the Interinstitutional Research Group on Ecosystem Services.
Aline has a degree and a Master in Geography and Environment at Pontifical Catholic University of Rio de Janeiro. Currently, is a Ph.D. student in Geography at PUC-Rio and a research assistant at the International Institute for Sustainability (IIS). Has experience in the areas of environmental history, soil science, and forest restoration of the Atlantic Forest, and has worked and researched in soil characterization and evaluation of soil ecosystem services projects of agricultural, cattle ranching, and forest.
The meetings are open to the public, and the debate followed by the presentation will be conducted in an open and participatory manner. No prior registration is required. For more information: contato@csrio.org
< Previous
Next >
Back to News