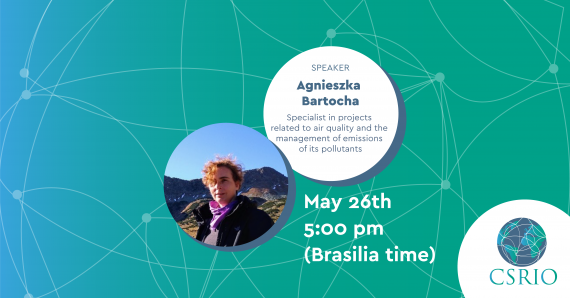 CSRio Seminar: Solutions for cities: a successful case study of a polluted city in Europe
17/05/2022
Interested in research projects to improve air quality policies, Agnieszka Bartocha is the leader of the R&D team at ATMOTERM. In this webinar, Agnieszka talked about solutions and challenges of remediation projects in heavily polluted cities by presenting a successful case carried out in Krakow, Poland.
The presentation took place on May 26 (Thursday), at 5:00 pm, via video conference on Zoom. Watch the recording below:
– About the speaker
• Agnieszka Bartocha – Agnieszka is a leader of the Research and Development Team in ATMOTERM Company. She completed her Master of Science in Energy and Environmental Systems at the Glasgow Caledonian University in 1996 and Master of Science in Environmental Engineering at the Wrocław University of Technology in 1998. With more than 20 years of experience in air quality management, since 2004 she has been the Air Quality Team Leader and has been involved in more than 30 Air Quality Action Plans for Polish Regions and many expertises and reports concerning air quality issues for the Polish government, i.e. the Ministry of Environment, Ministry of Infrastructure and Development, Ministry of Economy or regional authorities. She worked for a local government as Head of the Environmental Protection Department implementing, among others, projects on subsidies for the replacement of solid fuel stoves with low-emission heat sources for two years. She took part in the research projects in the Company concerning using the air quality sensors and implementation of the mining data methods in air quality analyses. Now she leads the international projects in the company and for the past 2 years, she has been implementing tools to study air quality in Kosovo. She is interested in research projects concerning new strategies and tools for the improvement of air quality policy.
< Previous
Next >
Back to News