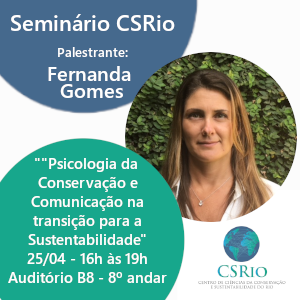 CSRio Seminar: "Conservation Psychology and Communication for the transition to Sustainability"
16/04/2019
We invite you to the seminar "Conservation Psychology and Communication for the transition to Sustainability", on April 25 (Thursday) , 16h, Auditorium B8, Frings Building, at PUC-Rio.
We will host Fernanda Gomes who will address the role of communication as a tool of conservation psychology in the change of behaviors related to the conservation of resources and ecosystems, in the harmonious relationship between all elements of nature and in the improvement of the quality of life related to sustainability aspects.
The meetings are open to the public, and the discussion followed by the presentation will be conducted in an open and participatory manner. No prior registration is required. A certificate will be issued to participants who request it. Questions and information: contato@csrio.usuarios.rdc.puc-rio.br
We count on the participation of all and all!
Date: 04/25/2019
Time: 16-19h + Happy Hour
Address: Auditorio do Direito (B8) – 8th floor Ed Frings, PUC-Rio. R. Marquês de São Vicente, 225 – Gávea
Fernanda Gomes has a Master's degree in Marketing Communication from the University of Westminster in England, a Bachelor's degree in Social Communication from Universidade Tuiuti do Paraná (UTP-PR), a bachelor's degree in Graphic Design from the Federal University of Paraná (UFPR) and is pursuing a degree in Biological Sciences from Federal University of Rio de Janeiro (UFRJ). See has worked in agencies and communications and marketing department of large companies and nongovernmental organizations in Brazil and abroad. She was a Fellow of the Department of Ecology at UFRJ and is a co-founder of an NGO dedicated to scientific dissemination. She currently work as Communications Manager for the International Institute for Sustainability (IIS) and the Rio Conservation and Sustainability Science Center (CSRio), developing communication strategies for scientific dissemination, awareness-raising among decision-makers and implementation of conservation projects together to communities – more specifically focused on the awareness and behavior change of the various actors.
< Previous
Next >
Back to News